Cottages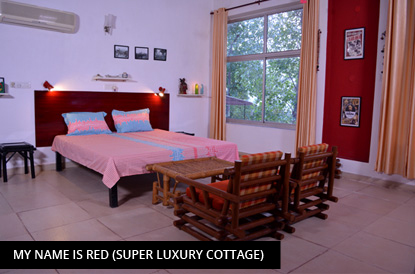 For the latest information on our cottages please check out our facebook page
My Name is Red (Super Luxury Cottage)
Reading a book by Turkish writer Orhan Pamuk is like waking up from a deep, restorative slumber with evanescent images of your dreams that bring a wry smile to your face.
And that is how you will feel in this cottage… refreshed, relaxed and with a sense of purpose.
No Orchids for Miss Blandish (Luxury Cottage)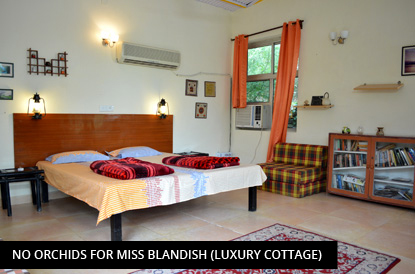 We've all grown up on James Hadley Chase thrillers with their racy covers. This was his first book written mostly over weekends. So we hope, this cottage will inspire you to pick up the pen to secure some random thoughts!
One Step Behind (Honeymoon Cottage)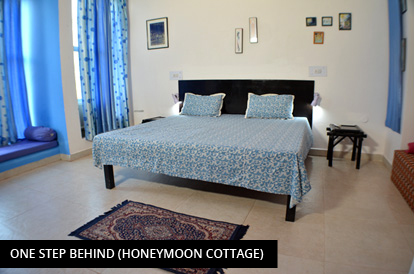 This cottage has been named after Swedish author Henning Mankell's surly cop Kurt Wallander who believes that "reality is rarely reasonable"
Tucked away in a peaceful corner, this cottage helps you suspend reality and imagine yourself in a remote part of the world…much like Wallander's Ystad in Sweden.
A Wild Sheep Chase (Luxury Tent)
It's hard not to get entranced by Japanese author Haruki Murakami who says, "if you only read the books that everyone else is reading, you can only think what everyone else is thinking."
Perched on a grassy terrace, this cosy tent overlooks some lovely views. And don't be too surprised if you find a sheep grazing right outside your window.
Please Note: Due to high demand of our luxury cottages we have decided to convert our luxury tent into a luxury cottage. The tent is under maintenance at the moment hence it would be difficult for us to accommodate any customers over the next two months. Apologies for any inconvenience this may cause.
The way to Cook (Kitchen)
A collection of recipes by the inspirational American chef who adapted sophisticated French cuisine in a hearty and forthright manner. An intelligence officer during World War II, she tops our list of unusual people who didn't let anything come in the way of mastering the difficult art of cooking, late in life. We have a warm and welcoming kitchen where the constant endeavour is to satisfy your taste buds.
Julia Child said: "Life itself is the proper binge."
Falling Off The Map (Common Room)
The complete title is Falling off the Map: Some lonely places of the world written by our favourite travel writer Pico Iyer. A collection of essays on countries as far flung as Paraguay and as forbidden as North Korea…the book transports the reader to a world of curiosity, eccentricity and irony. In our Common Room, however, you can play a game of monopoly, sip a glass of Ramji's freshly made kanji or just idle away.
For the latest information on our cottages please check out our facebook page